Dubai is a lively city that draws visitors from all over the world because of its diverse options, world-class lifestyle, and safe environment. Single professionals, couples, and families all flock to this neighbourhood.

Many people want to know the cost of living in Dubai before opting to relocate there. Fortunately, Dubai is a place where inhabitants may pick between an inexpensive and luxurious lifestyle. 
Today, let's delve into the fundamental costs of living in Dubai, including housing, utilities, groceries, schools, and more! With this simple guide, you can find out how much it costs to live in Dubai for a couple, a single person, or a family of four.
However, keep in mind that these costs might vary greatly depending on your own tastes, lifestyle choices, and location. It's a popular misconception that inhabitants in older parts of Dubai have more inexpensive housing, supermarkets, and restaurants, whereas people in properties closer to the city's major artery, Sheikh Zayed Road, and coastal regions have more luxurious options. 
Whether you are moving to Dubai to set up a business or simply looking for better job prospects, it is helpful to have a good idea of what the cost of living in Dubai is before you move here. So, let's begin!
Types of Costs in Dubai – (Cost of Living in Dubai)
If you've been asking friends and family:

How much does it cost to live in Dubai?
Here is the list of Dubai expenditures we will be addressing:
Housing
Groceries
Utilities
Transportation & Fuel
Healthcare
Schooling
Entertainment
House Help
While your personal preferences and lifestyle choices significantly impact your monthly expenditures, the location where you decide to purchase a home or rent an apartment in Dubai plays a crucial role. 
For instance, opting to reside in older parts of the city generally results in more affordable Dubai property prices and other costs of living in Dubai. Conversely, choosing areas near prominent streets such as Sheikh Zayed or beachfront regions entails higher prices.
Cost of Living in Dubai?
Housing
If you're looking to grasp the cost of living in Dubai, housing expenses take centre stage. Dubai's real estate market is celebrated for its wide array of accommodations, providing the opportunity to find an option that fits your financial limitations.
You can explore the prospect of owning a lavish villa in Dubai, which tends to be pricier or consider smaller, more economical apartments that fit a tighter budget.
When contemplating a property purchase, it's vital to carefully evaluate the neighbourhood that suits your financial circumstances among all the posh places in Dubai.
Certain neighborhoods like Dubai Marina, Arabian Ranches, Jumeira, and Barsha command higher prices for both buying and renting properties. Conversely, there are more affordable alternatives in suburban communities such as Dubai Silicon Oasis, Reem, and Mirdif. 
You can also consider residing in some of Dubai's older districts like Al Nahda or Deira.
| | | |
| --- | --- | --- |
| Single | Couple | Family of Four |
| Studio: Al Nahda: AED 2,583 per month.Studio: Dubai Marina: AED 4,166 per month. | 1 BHK Apartment: Al Nahda: AED 3,166 per month.1 BHK Apartment: Dubai Marina: AED 6,250 per month. | 3 BHK Apartment: Mirdif: AED 8,750 per month.3 BHK Apartment: Arabian Ranches: AED 11,666 per month. |
Groceries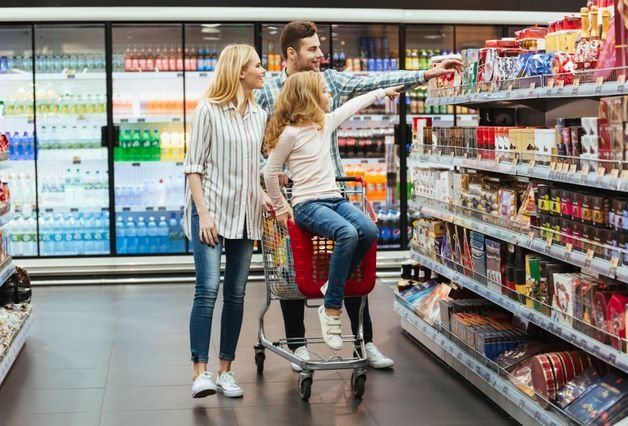 Groceries are another key factor to consider when calculating the cost of living in Dubai. In Dubai, there are various grocery chains that sell food items from all over the world. Your dietary habits and lifestyle might have a significant impact on your monthly grocery expenses. 
You should expect a large grocery spend if you shop at high-end stores like Waitrose or Spinneys and buy foreign goods or pricey meat cuts. Shopping at affordable supermarkets like Carrefour, Lulu Hypermarket, or Union Cooperative, selecting local and in-season products, and keeping an eye out for package deals and discounts will help you save money on groceries.
To give you a rough idea, here are some approximate price ranges for common grocery items in Dubai:
Milk (1 liter): AED 4-8
Bread (loaf): AED 3-8
Rice (1 kg): AED 5-15
Chicken (1 kg): AED 12-25
Eggs (12): AED 8-15
Apples (1 kg): AED 6-12
Tomatoes (1 kg): AED 4-8
Potatoes (1 kg): AED 3-7
Water (1.5 liters): AED 1-3
Local cheese (1 kg): AED 20-50
It's always a good idea to compare prices at different stores, take advantage of promotions, and consider bulk buying to save money on your grocery expenses in Dubai and in turn reduce the cost of living in Dubai.
Utilities
Are you curious about the average cost of living in Dubai? One of the most important criteria for any resident is the cost of utilities, which includes your power and water connection (known as DEWA), TV and internet packages, and cell contracts. 
Because A/C usage is often higher in the summer, your average monthly DEWA bill may likely differ throughout the summer and winter months. If you rent a villa with a private pool and garden, you can expect your expenses to rise even more.
Residents in Dubai can choose from a variety of TV and internet packages from service providers. Residents may get 250 Mbps to download speeds, 200+ TV channels, and free calls to UAE landlines with a basic subscription that costs AED 389 per month. 
Premium packages with broadband speeds of 500 Mbps and premium sports and entertainment channels‌ will cost AED 1000 or more per month. Similarly, mobile plans in Dubai start at AED 125 per month but can go up to AED 500 or more for higher data packages and calling minutes.
| | |
| --- | --- |
| Utility | Cost |
| Basic Utilities for 900 sq. ft. apartment (Electricity, Water, Cooling & Garbage) | AED 600 |
| Basic Internet & TV Package | AED 389 per month |
| Premium Internet & TV Package | AED 1,139+ per month |
| Basic Mobile Postpaid Plan | AED 125 per month |
| Premium Mobile Postpaid Plan | AED 500+ per month |
| | | |
| --- | --- | --- |
| Single | Couple | Family of Four |
| AED 750 – AED 1,000 per month | AED 1,000 – AED 1,400 per month | AED 2,000 – AED 3,500 per month |
Transportation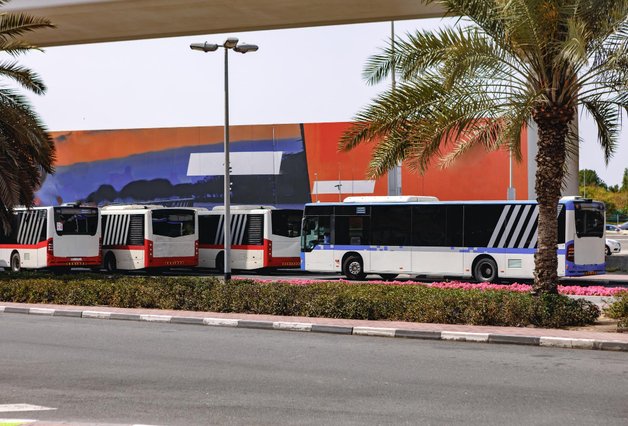 Due to the scorching temperatures experienced in Dubai, inhabitants generally depend on either public transportation or their personal vehicles to navigate the city. 
The price of gasoline in the UAE is usually more economical compared to other nations, though it can fluctuate based on variables like traffic congestion and travel distance. Moreover, expenditures like insurance and vehicle maintenance are contingent on the type of automobile owned.
For individuals seeking to economize, Dubai provides an extensive public transportation network, encompassing buses, taxis, and subways. The monthly expense of utilizing public transport without a card, which grants access to all areas, amounts to approximately 350 dirhams. 
Yet, relying solely on public transportation may result in lengthier travel durations, thus it is advisable to select a residence close to one's workplace to minimize commuting costs and save time.
To provide more details on Dubai's transportation costs:
| | |
| --- | --- |
| Transport Service / Product | Cost |
| Petrol (1 litre) | 92 AED |
| Nol Card (Monthly Passes All Zones) | AED 350 |
| Taxi Fare for 1km | 3-3.5 AED per kilometer. |
Healthcare
All UAE citizens are required to have health or medical insurance, which will be factored into your cost of living in Dubai. If you work for a firm that sponsors you, they are required to offer you health insurance.

However, it's not uncommon for your employer to additionally provide health insurance for your family. If your family does not have health insurance or you are on an investor visa, you will have to acquire it yourself from one of the many medical insurance providers in Dubai.
The cost of medical insurance varies based on the level of coverage, with Essential Benefits Plans starting at AED 600 per year. A comprehensive plan for an individual, on the other hand, will cost roughly AED 5,500 per year on average.

A complete plan for a family of four might cost between AED 15,000 and AED 20,000. When considering international coverage and other premium perks, medical insurance in Dubai for a family of four can cost up to AED 70,000.
If you employ a house help, you must offer them medical insurance, which is usually provided through the Essential Benefits Plan.
Schooling
When considering the cost of living in Dubai with a family if you have children, remember to include in-school costs. Parents in Dubai have a variety of schools to choose from, with the most popular curriculums being British, American, Indian, and IB. 
Schooling expenses, on the other hand, can be rather costly, especially at the top schools in Dubai. British, American, and IB schools often charge higher fees, with the best institutions costing between AED 4,000 and AED 9,500 per month, depending on your child's grade.

Meanwhile, Indian institutions in Dubai have lower tuition fees, with premier schools like GEMS Modern Academy charging between AED 2,800 and AED 5,200 per month.
However, it's vital to remember that when uniforms, school transportation, notebooks, test fees, school trips, and other expenses are factored in, a family's monthly spending in Dubai will rise.
However, there are several low-cost schools in Dubai that provide all the above programmes. Take a look at the monthly tuition expenses (for 10 months) for a Grade/Year 6 student in an expensive versus affordable school in Dubai for different curricula to get an idea of the average school fees in Dubai.
| | | | |
| --- | --- | --- | --- |
| School | Curriculum  | Fees Range | Average Monthly Fees (Approximately) |
| GEMS Wellington International School | British | Expensive | AED 5,534 |
| GEMS Modern Academy | Indian | Expensive | AED 4,453 |
| Dubai American Academy | American | Expensive | AED 8,626 |
| GEMS World Academy | International Baccalaureate | Expensive | AED 9.465 |
| Dubai International Academy, Emirates Hills  | International Baccalaureate | Mid-Range | AED 5,283 |
| The Winchester School | British | Affordable | AED 1,843 |
| The Millennium School | Indian | Affordable | AED 2,236 |
| International School of Arts & Sciences  | Americal | Affordable | AED 2,825 |
Entertainment
Residents of Dubai will discover that the city offers several sights and activities to try! There is never a dull weekend in Dubai, with fine dining restaurants, IMAX movies, extreme sports, and world-famous tourist destinations.

If you're thinking about moving to Dubai and want to know how much it costs to live there, we recommend setting aside money for weekend activities. 
Residents will order more frequently as food delivery applications such as Uber Eats and Deliveroo become more popular, adding to the costs. If you order food frequently online, the average cost of food in Dubai will rise.
| | |
| --- | --- |
| Entertainment | Cost |
| Movie Ticket for 1 | AED 40 |
| Gym Membership for One Month | Approximately AED 300 |
| Meal for One (Affordable Restaurant) | AED 30 |
| Meal for Two (Mid-range Restaurant & Three-Courses) | AED 250 – AED 300 |
| Meal for Two (Fine Dining Restaurant & Three-Courses) | AED 500 – AED 1,000 |
House Help
One of the perks of living in Dubai is having economic house help, which many residents take advantage of. Expats who hire a housemaid must sponsor them and must renew their visas every year. Keep in mind that this will be on top of your Dubai living expenses.
Sponsoring a maid in Dubai costs roughly AED 6,000 per year, including a refundable fee of AED 2,000 to GDRFA. This does not include the monthly income, which can range from AED 1,500 to AED 3,500 depending on the job, prior experience, and other factors. 
The embassy of the worker's home country specifies a minimum salary that the sponsor must pay. In addition, if the housemaid does not live with the sponsor, the sponsor will be required to provide additional funds for housing. 
Alternatively, expats can employ a full-time maid through maid service agencies in Dubai, which would include a one-time agency fee besides the maid's income.

Several cleaning companies allow you to arrange maid services for a couple of hours on a one-time or regular basis for people who need part-time domestic help. Part-time cleaning services often charge between AED 30 and AED 45 per hour, adding to the overall cost of living in Dubai.
The Final Verdict
This concludes the cost of living guide for families, couples, and single professionals in Dubai. While these are the basic prices that almost all Dubai residents will pay, it's crucial to remember that additional fees will arise based on your lifestyle. 
Many expats in Dubai take at least two or three vacations per year, whether to visit their home countries or to go to new places. During school breaks, parents may frequently enrol their children in holiday camps or after-school activities, which will add to the cost of living in Dubai for a family.
We hope this article helps you get an approximate idea of what life in Dubai is like! If you have no idea where to begin, contact ZāZEN Properties at +97150 170 9376 for more information. ZāZEN Properties has delivered its first sustainable community development in the established Jumeirah Village Triangle community of Dubai, with over 85% already sold.