Dubai is known for its luxury and high living standards. In recent years, it has witnessed a fast increase in population. Many posh places in Dubai have been established to benefit the overall economy of the emirate and also be a leading place for real estate.
When looking for a new home, there are several factors to consider. Here are some of them: 
Improved standard of living 
Better infrastructure and other facilities
Attractive job offers and salaries
In a city like Dubai, it's really important to choose a place to relocate to. Here are the top 11 posh places in Dubai that should be on your list.
List of Top 12 Posh Places in Dubai:
Al Furjan
Al Furjan is a vibrant residential community located in Dubai, United Arab Emirates. It is a master-planned development that offers a wide range of housing options, including villas, townhouses, and apartments, designed to cater to the diverse needs of families and individuals.
The community features numerous parks, jogging and cycling tracks, and playgrounds, making it an ideal place for families with young children. There are also several retail outlets and restaurants within the area, providing residents with convenient access to essential amenities.
Moreover, the strategic location of Al Furjan makes it easily accessible from major highways and public transportation networks, making it an ideal choice for those who commute to work or school. Overall, Al Furjan is an excellent option for those seeking a comfortable, modern lifestyle in Dubai. You can also check Apartment for Sale in Al Furjan created by ZāZEN Properties. 
Palm Jumeirah
Palm Jumeirah is a popular family-friendly residential area in Dubai. It is designed with luxurious residences. Palm Jumeirah has fantastic fine dining options, restaurants, lounges and other attractions. It is well-known for its luxurious hotels, such as:
Atlantis – the Palm
Anantara The Palm Dubai Resort
Kempinski Hotel and Residences 
Palm Jumeirah is undoubtedly one of the most lavish areas in Dubai. When deciding to move to Palm Jumeirah, the following factors should be considered:
Youth-friendly, safe and ecological area.
Luxurious villas and penthouses cater to the premium and elite classes.
Close to the beach.
Tourist & VIP area.
Downtown Dubai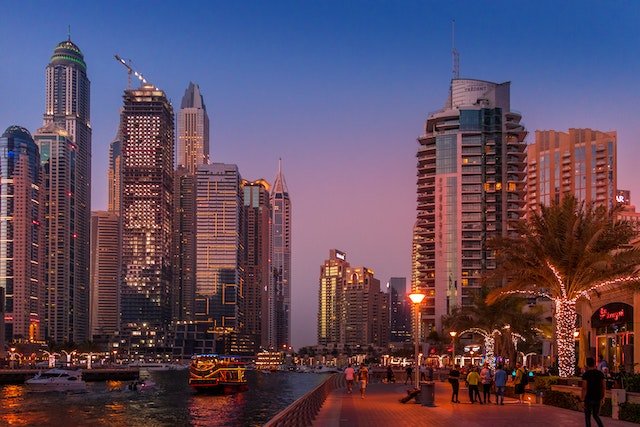 It is the heart of Dubai and unquestionably one of the wealthiest areas. 
If you enjoy shopping, Downtown Dubai will enchant you. There are many world-class shopping malls in Downtown Dubai, including the world's second-largest mall, The Dubai Mall. Other notable landmarks in Downtown Dubai include:
Burj Khalifa
The Dubai Fountain
Fashion Avenue
ZāZEN Properties suggests Downtown Dubai because of the following factors:
Luxurious business and residential buildings with modern and innovative architecture. 
Close to the city centre – youth-friendly and safe.
Panoramic view of Dubai from the apartments.
The observation deck and tourist area.
Near The Dubai Mall and Burj Khalifa
Jumeirah Beach Residence (JBR)
JBR is a lengthy stretch of high-rise structures that run parallel to Marina's beach. Only apartments with balconies and underground parking spaces are available in this residential neighbourhood.
Dubai Marina is one of the top-tier posh places in Dubai. To experience the best of Dubai, take a stroll along the popular 7-kilometre Dubai Marina Walk. A lot of shops and restaurants are situated in the Dubai Marina.
ZāZEN Properties suggests Dubai Marina as one of the posh places in Dubai to move because of the following factors:
Luxurious penthouses, and skyscrapers with modern architecture.
Suitable for work with a lot of office buildings. 
Youth-friendly; suitable for families with children.
Tourist areas with a safe environment.
Emirates Hills
Emirates Hills is a community of gated villas in Dubai. It has everything you need, including stores, restaurants, and a luxurious golf course.
Emirates Hills includes top-class facilities such as mesmerizing parks and much more. It has a cluster of residential areas, such as The Springs and The Meadows.
ZāZEN Properties suggests Emirates Hills as another top place to move because of the landscape design and closeness to nature.
Al Barari
When discussing the best luxury properties in Dubai, it is difficult to overlook Al Barari. Al Barari is the region's first luxury development that is also environmentally sensitive.
Al Barari is well-equipped and portrays a comfortable standard of living. It is surrounded by mesmerizing nature for outdoor activities. 
Al Barari has all the infrastructure, including restaurants, shops and much more. At Al Barari, you can find wonderful housing facilities by ZāZEN Properties at reasonable prices.
Jumeirah Lake Towers (JLT)
JLT is a residential district built around lakes. The Jumeirah Lake Towers provide stunning views of man-made lakes and lush flora. JLT is ideal for singles and young couples who are working in Dubai. 
There are no houses or villas, just high-rise apartment blocks with corporate towers. The ability to live near the office is the key advantage of Jumeirah Lake Towers.
Umm Suqeim
Umm Suqeim is one of Dubai's richest and most expensive neighbourhoods. It is surrounded by some of the city's most popular attractions, such as:
Jumeirah Beach
Kite Beach
Wadi Water Park
The distinctive architecture of the Burj Al Arab has made Umm Suqeim famous around the world. At ZāZEN Properties, Umm Suqeim is known for its properties that range from old and traditional to modern villas.
The Lakes
Away from the hustle and bustle of Dubai, The Lakes is built next to Emirate Hills. The Lakes have 12 distinct types of villas, each with its own set of amenities. 
It is one of the most peaceful and posh places in Dubai to release your stress and relax. The Lakes is also conveniently located near Dubai Marina, Palm Jumeirah, and Dubai Media City.
Arabian Ranches
Arabian Ranches is a gated villa community in Dubai that includes the Arabian Ranches Golf Club, the Dubai Equestrian Club, and the Polo Club. Away from the hustle and bustle of the city, Arabian Ranches offers a variety of residential properties by ZāZEN Properties. It also has schools and a few healthcare facilities situated nearby.
Between The Lakes and Jumeirah Islands is The Meadows. Al Khail, Sheikh Zayed Road, and Hessa Street are all close by. With paths across the parks and play spaces, it is a very child and pet-friendly location.
The Meadows is a popular family-friendly townhouse community. If you want to be surrounded by beautiful gardens, enormous parks, and children's play spaces, this may be the place for you!
Apart from the above areas to relocate with your family in Dubai, there are several other areas in the city. Suitably designed for a family-friendly environment, other areas include:
Mirdif
Dubai Media City
Dubai Sports City
Deira
Dubai International City
Al Sufouh
Jumeirah Village Triangle (JVT)
Located near The Springs Souq and Meadows, JVT is home to over 5,000 luxurious residential properties. JVT is popular among residents looking for townhouses, villas and apartments. The apartments at JVT appeal to individuals, families, and couples. 
The Springs, Dubai Production City, Jumeirah Village Circle, and Dubai Sports City all share close borders with Jumeirah Village Triangle.
The following factors can be considered when deciding to move to JVT:
Modern architecture and landscape design.
Appropriate for a family with children.
Appropriate for recreational purposes.
Investment attractiveness.
Safe and spacious villas and townhouses
If you are looking for a property in one of the above-mentioned posh places in Dubai, contact ZāZEN Properties for the same.