Dubai's real estate market is full of enticing opportunities for both first-time home buyers in the city and global investors from around the world.
There are all types of communities and areas, from posh places in Dubai-Al Furjan to the best luxury properties in Dubai located near worldly attractions like Burj Khalifa. 
The recent growth of the Dubai real estate market despite the global slowdown proved to many investors and home buyers how powerful the property market is in Dubai. 
Many reasons are primarily driving and pushing the real estate market in Dubai, like the amenities and infrastructure the city offers to businesses and entrepreneurs across the world. 
Dubai's service to businesses is unparalleled to any other in the world. It forms a base for visionary entrepreneurs and businessmen to flourish and thrive in support of the UAE government laws and take their businesses to new heights swiftly.
Why invest in Dubai Real Estate Market in 2023?
Currently, Dubai-the ideal investment destination has seen a 67% increase in the number of foreign property buyers. There has been a significant increase in the number of investors looking to buy a home in this emirate. Both villas and apartments are in demand, as each offer different benefits. 
Some buyers are attracted to the potential income from renting out apartments in coastal areas, while others are interested in luxury housing.
Here are the top 7 reasons why you should invest in Dubai real estate market in 2023:
Stable Exchange Rate: The currency used in the United Arab Emirates is the UAE Dirham, which is divided into 100 fils. The dirham is tied to the value of the U.S. dollar and is considered to be one of the most stable currencies globally. The UAE dirham has maintained a stable exchange rate with the U.S. dollar for over two decades.
Future Growth Potential: Real estate is steadily increasing and is predicted to increase by 46% in 2023. According to the Realiste AI data reports, It is predicted that the cost of real estate in this area will rise by 29% in 2023. 
The overall trend for Dubai's real estate market in the coming year is upward, with prices expected to rise by a minimum of 10-15%, and some areas experiencing growth of up to 46%, as per the data.
Off-plan properties in instalments: An  off-plan property in Dubai that is yet to be completed, is generally available at lower prices. Due to this reason, they can offer great opportunities for both buyers and investors.
Low Crime Rate: People in Dubai are financially well-off and hence are less likely to engage in crime. The city overall has a very low crime rate and is completely safe for foreigners as well as natives.
Cryptocurrency accepted for buying property: Aligned with the dream to become the world's crypto capital, Dubai allows buyers to pay in crypto. Dubai's real estate market will accept transactions made using Bitcoin and other cryptocurrencies as long as all legal requirements are met. 
Bitcoin Swiss (BTCS) is currently the most widely-used crypto brokerage in Dubai and the UAE, making it a popular choice for investors looking to purchase property in the country. 
This means that investors have the option to buy villas, townhouses, apartments, and commercial properties in Dubai using Bitcoin, ensuring that the transaction process is secure, efficient and quick.
No tax: Dubai's real estate market does not impose taxes on properties as it has sufficient income from oil and trade. Instead, it charges a monthly "housing fee" (also known as municipality tax) and a 4% transfer fee as a way to generate revenue from property transactions.
Rental Housing in Demand: According to the latest data from CBRE in 2022, the average housing rents have gone up by 27.3% in the year until November 2022. Specifically, the average apartment rents have increased by 27.6% and the average villa rents have risen by 25.4%.
All these factors make the real estate market, one of the best investments in Dubai.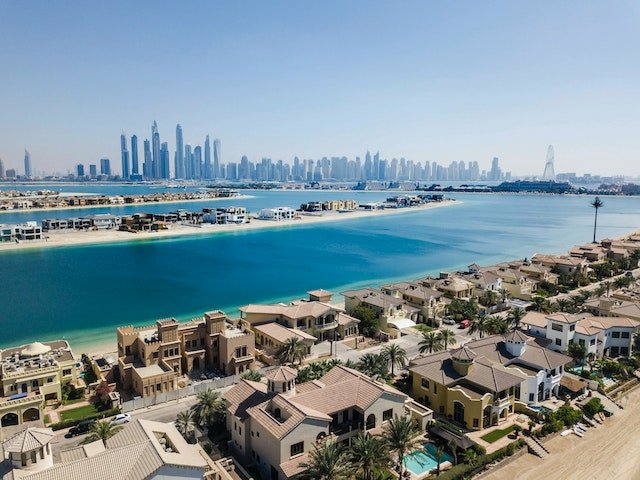 Things to check before buying a property in Dubai:
Location
There is one thing you need to keep in mind at all times: the location. The location of a property in Dubai can greatly impact the convenience of accessing popular destinations and hotspots in the city. 
Best locations to buy in Dubai:
Palm Jumeriah

Downtown Dubai

Dubai Marina

Business Bay
Future profits
For mid to long-term investors, rental yields and resale value are key factors to consider when investing in real estate. The UAE real estate market continues to be a profitable option with competitive property prices, payment options and more. However, it's important to keep in mind that while larger properties may offer higher rental income, they also tend to have higher service charges and initial costs, which can impact the overall return on investment (ROI).
Property type
Dubai has a diverse range of neighbourhoods with a variety of property options that appeal to both residents and property investors. These options include luxurious waterfront apartments, shopping centres, and upscale restaurants, as well as residential communities with modern homes and top-notch amenities and services.