We are all aware of Dubai's fast-expanding real estate market and its global position as a travel hub. But few know about its favourable real estate laws and the future that the sector holds even after covid. 
Dubai's real estate market is set to make new records in 2023 with an increase of 13.5% in the number of foreign investors and high-net-worth buyers, as predicted by the Knight Frank report.
If you hold a keen interest in exploring the best investment in Dubai–Property, then this article is a beneficial read for you.
We'll answer all your queries regarding Dubai's real estate market and who can invest in Dubai's real estate market.
Can Foreigners Buy Property In Dubai?
When referring to foreigners, we include non-residents and ex-pats already living in the UAE. Both groups are welcome to purchase properties in Dubai. 
Taxation for Foreigners who wish to invest in Dubai real estate market:
Great news! 
No taxes are imposed on rental income or properties purchased by foreigners in the UAE as part of the government's effort to attract foreign investments. This creates a favourable investment environment for them.
Also read: Can Indian citizens buy property in Dubai?
If you're thinking about buying a property in Dubai, think big and consider Zazen Gardens as a valuable property investment in Dubai. 
Owning a property has become relatively easy and simple in Dubai. 
You can buy, sell and even lease a property in Dubai in the areas allowed by the government. It's all possible with a valid passport and a connection with real estate agents in the city.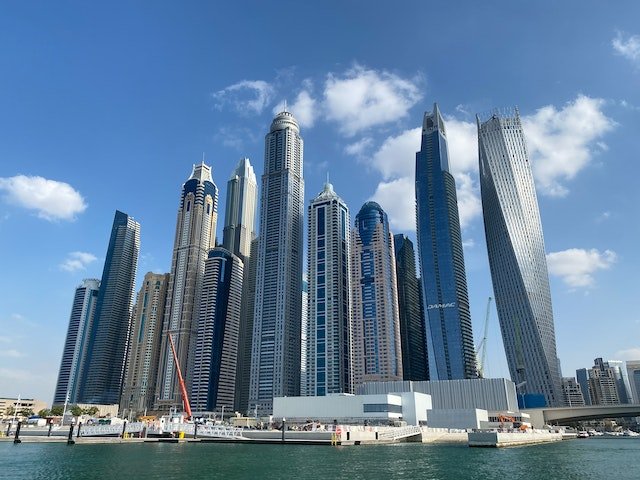 Buying Process: The process varies depending on whether you are buying an established home (resale) or off-plan property. 
The benefit of buying off-plan is that foreign buyers can lock in the prices in advance of any market increases, and the home is brand new if you or your tenant move in. 
Before buying off-plan, make sure that the developer has been approved by the Dubai Land Department. Check the DLD's website for a list of all approved developers. A skilled developer must have completed a number of projects. 

Foreign ownership regulations change quickly in Dubai, so you'll want to work with an agent who knows them inside and out. Ensure that they are registered with the Real Estate Regulatory Agency(

RERA

), which oversees and regulates Dubai's real estate sector. 

Get pre-approval from a local bank, or from another bank. 

Sign the property sales contract, Form F, after agreeing to the terms of the sale. An agreement must be signed and a 10% deposit must be paid.

In the document, the developer will indicate that he agrees to the sale and the seller has paid any outstanding fees, or that he will do so.

When the developer issues the NOC, you can take the property to the Dubai Land Department or a trustee office and transfer it to your name. 
Types of Properties in Dubai
Freehold property: A freehold property grants you full ownership in your own name. The owner of a freehold property has full rights when it comes to leasing, renting out, or selling it.
Freehold properties in Dubai can only be purchased in designated areas determined by the Emirate's ruler. 
There are various freehold areas in Dubai, but regulations change from time to time, so it's advised that you check with the Dubai Land Department (DLD) for more information.
Foreigners can obtain freehold ownership in a number of areas including Palm Jumeirah, Discovery Gardens, Falcon City, Dubai Sports City and even Burj Khalifa.
Long-term leasehold property: It is possible to lease a leasehold property for up to 99 years. The lease term is normally between 30-99 years; however, when the term expires, the landlord takes back ownership. 
When you get closer to the lease expiry date, the price appreciation tends to be less than when you renew the lease. 
In most cases, leasehold properties are leased for a long time, lasting from 10 to 100 years. Property in the UAE is usually leased for a certain period of time based on the purpose for which it was purchased. It is possible to do anything with this kind of property during the lease term, except for completely destroying it at the end.
Strata-titled property: Apartments in commonhold properties often incur maintenance and repair fees. In Dubai, commonhold property ownership means that you are able to buy, sell, rent, or even pass the property on to your heirs. 
Documents Required to Buy a Property in Dubai:
Passport copy

Bank statements

Utility bill

Insurance(In case you apply after retirement)

Good conduct certificate
Why Invest In Dubai's Real Estate?
These three main benefits of buying property in Dubai and why it is one of the best investment locations across the globe:
As in the global market, Dubai's market has seen property prices drop over the past two years. In recent months, this trend has shifted, and the market has responded to flat-lining prices that represent bargains for potential investors and homeowners.

As Dubai is a strategic trading hub between the east and west, its GDP is continuing to rise steadily. Last year's rise of 2.8% represents the growth of Dubai's economy. Among the biggest contributors to the economy is the real estate market, which contributed 27.6 billion Dhs in 2017 compared to 25.7 billion Dhs in 2016.

It is predicted that real estate will increase by 46% in 2023 due to steady growth. Data from Realiste AI predicts a 39% rise in real estate prices in this area by 2023. Based on recent data, Dubai's real estate market is expected to experience growth of up to 46% in some areas this year, with a minimum of 10-15% expected to rise in prices.
Conclusion:
The rapid development and growth of Dubai have attracted international attention. A flourishing ex-pat community and a great stable economy have contributed to the real estate market's growth.
It is crucial to familiarize yourself with the laws and regulations that govern the real estate market in Dubai before making any property purchases. We hope that this article helps to address any questions you may have about investing in Dubai's real estate market.