When it comes to skyscrapers, Dubai is one of the most luxurious cities in the world. Dubai has it all, from the world's tallest structure, the Burj Khalifa, to Palm Jumeirah, one of the world's largest man-made islands. The unique buildings and ultramodern style are a visual pleasure. If you happen to visit the city, you will come across some of the most beautiful architecture. You must definitely consider investing in the best luxury properties in Dubai.
List of 11 Best Luxury Properties in Dubai
ZāZEN One
ZāZEN One is a nine-story luxurious residence in Dubai's JVT District 7, Jumeirah Village Triangle. It has been under construction since 2019 and is expected to finish in early January 2022. With 86 units consisting of one and two-bedroom apartments as well as duplexes, this is suitable for people seeking elegance and comfort.
Some highlighting features include: 
A 28-minutes drive to the Dubai International Airport
A 25-minutes drive to the iconic Al Maktoum International Airport
Apart from that, the beautiful property is in a perfect location in Jumeirah Village Triangle (JVT). It is surrounded by schools, parks, and a mall, all within walking distance.
Le Rêve
The next stop is Dubai's Le Rêve, which is famed for pushing the boundaries of the best luxury properties in Dubai city. Le Rêve, which means 'The Dream' in French, is home to the most luxurious Dubai. With 52 stories, massive penthouses, official condos, and illustrious lofts, there's a ton to expect from this property.
The sprawling and beautiful estate is home to five-star hotels and international cuisine, but that's only a taste of what's to come. Valet parking, private elevators, gyms, steam rooms, gaming arenas, roof pools with temperature controls, cutting-edge home technology, well-organized nurseries, spas, and Jacuzzi are all available in various penthouses.
Emirate Hills, HT Sector
The HT Sector in Emirate Hills is a lovely French-inspired style that resembles an imperial regal house. With the dazzling fantastic environment, the craftsmanship, intricacy, and colourful graphics would catch your sight right away. It also provides enough safety, comfort, and security for individuals who live there.
Residents of the Emirate Hills, HT Sector, have access to premium amenities such as:
A private spa
A temperature-controlled pool
A leisure centre
Various gaming rooms
Individuals who are accustomed to luxurious living and enjoy golfing would enjoy living in this flawless property.
Emirates Hills, V Sector
The V Sector, which has a three-vehicle garage and a fantastic parlour, is another property in Emirates Hills. It is located in Dubai's premium gated community, which is sometimes referred to as the country's Beverly Hills. If you like areas with a lot of space, the V Sector, with its large patios, is the spot for you.
From there, you can get some nice views of The Green and Marina, which are also available in this region. Those who enjoy unique collections and presentations will enjoy staying at Emirates Hills. There is plenty of room for displays in this premium property.
Burj Khalifa 
Burj Khalifa is another best luxury properties in Dubai. It has held the title of the world's tallest tower since its construction in 2010. This gleaming structure has dominated the Dubai skyline for more than five years. It took more than five years to complete the project. If you want to live a luxurious lifestyle, you should surely come here.
The rooms are designed with a modern, en-suite bathroom. A stunning view of the horizon and a big section with an oceanic view may be found on a portion of the property. The Dubai Fountain, an open-air reception deck, and much more are among the many components.
Al Baari
The Al Baari is an excellent choice for individuals seeking modern & best luxury properties in Dubai. It has received several awards for its engineering. Along with the open-air eating space, the spa concept has received several awards. It also contains a fitness facility and a green area with over 500 plant varieties.
The Al Baari is known for being a secluded haven. It is a hub of six completed nurseries that offer a good blend of luxury and nature. There are lakes, cascades, streams, libraries, Mosques, and retail hotels in addition to Al Baari.
Emirates Hills, H Sector
The most astounding part of the H Sector of Emirates Hills is that it comes with modified residences. This is due to the fact that this luxurious estate includes a variety of floor plan layouts to suit a wide range of people. The H Sector was roused by Beverly Hills in California, with selectiveness and a comparable appeal. 
In this gated community, there are two luxury golf clubs. So, those who enjoy playing this expensive game would feel completely at home in H Sector. It also has a distinctive Arabesque design that catches your eye right away. Furthermore, it also has medical services and fashionable donning amenities.
Marina Tower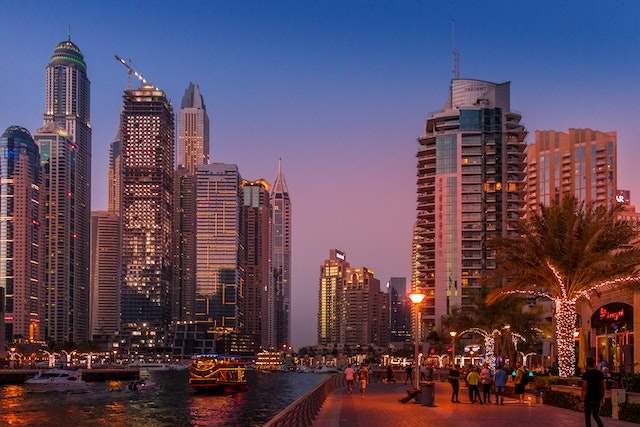 The Elite Marina Tower was the most luxurious property in Dubai at the time it was completed. It was also the world's third-tallest private property, and it still adheres to the "best luxury properties in Dubai" standards. 
This property can be found on the fantastic plant in Nacka.  You can join in with the best city view with the exquisite and progressed plan. 
You'll find a wide range of eating joints on this site. The indoor pool, bar, self-stopping, spa, health bar, and free Wi-Fi are just a few of the amenities.
MAG 214, Jumeriah Lake Tower
Despite the fact that the MAG 214 is one of Dubai's most spectacular residences, it is also accessible to working-class families. You'll also find waterfront outside cafés and bistros, as well as a strolling area to enjoy. 
A recreation centre, daycare, pools, a meeting area, a Jacuzzi, sauna, rapid lifts, and lake view bars are also available.
Estate, Palm Jumeirah
The Villa on Palm Jumeirah is an excellent choice for people seeking private beach luxury. It offers a wonderful view of the shoreline and beachfront, as well as privacy and a calm setting. 
The property features amazing hideaway living, suites, expansive porches, and galleries. At the Villa, you can live in a new luxurious taste.
Emirates Hills
At long last, we have the essential Emirates Hills. Emirates Hills is one of the best luxury properties in Dubai, available to be purchased and leased. You can appreciate the security and peacefulness in this property, as it is fitted with an honour-winning five-star hotel. 
These incorporate a poolside café, wellness centre, open-air boundlessness pool, and spa.
The crown jewel, Dubai, has a lot to offer. It is regarded as one of the most luxurious and glamorous cities in the world. If you want to relocate to the city, have a look at these best luxury properties in Dubai. There truly isn't a better way to see the city!