Driving is a skill that can actually take you everywhere, no matter where you reside on the globe. But occasionally, it might be challenging to obtain a driving licence for a number of reasons. By defining the steps, techniques, and advice involved in getting a driving licence, this Dubai driving license guide may help you get beyond any obstacles.
Dubai has a cutting-edge modern infrastructure that offers excellent access both within Dubai and to other regions in the area (other emirates). You may take advantage of travelling conveniently and safely thanks to the sophisticated, integrated transit networks.
Who can get a driving license in Dubai? 
A Dubai citizen who complies with the following conditions may apply for a driving licence under the RTA guidelines: 
They are at least 17 years and 6 months old and in good health. 
They participate in a training and certification course provided by an authorised driving school. 
They succeed on both the written and practical exams. 
A valid passport, Emirates ID, at least eight passport photos, the results of an eye exam, and a traffic file number are required in order to apply for a licence. 
You must pay the RTA service costs, which also include exam fees of Dh200 and knowledge and innovation fees of Dh20.
The Dubai driving schools that are accredited will take care of it for you. Based on this application, the RTA issues a temporary licence, which you are required to keep on you at all times while you are undergoing training.
What is the procedure to apply for a driving license in Dubai?
Simply follow this step-by-step instruction to obtain a driving licence in Dubai if you are of driving age. The application process for a driving licence in Dubai is straightforward yet exacting. 
Get an eye exam. This may be done at an optical shop or your driving school. 
Register at a driving school in Dubai that has received RTA approval and provide all necessary documentation. 
Obtain your temporary Dubai driver's licence or learner's permit and start your training. 
Complete all theoretical lessons, which may be done online or at driving schools. 
Pass the theory test to advance to practical training. 
Successfully complete the practical lessons, then take your internal exam. 
You must finish the highway and city road lessons after the internal evaluation. 
The school must pass the internal parking exam before applying for the RTA test. 
Pass the test, then the RTA road test, to go on. 
Get a licence 
If your initial attempt fails, you must take an extra seven training sessions before retaking the road test.
What documents are required for a driving licence in Dubai? 
Emiratis only require their valid Emirates ID to apply for a Dubai driving course. The Dubai driving licence requirements are different for expats. If you're a foreigner living in Dubai, you need to submit:
Your Emirates ID (copy and original)
Your passport with visa page (copy)
Passport size photos (minimum of 2)
Your eye test results
A no objection letter from your sponsor (if asked by the relevant department)
Where can I find driving institutes in Dubai that are RTA approved?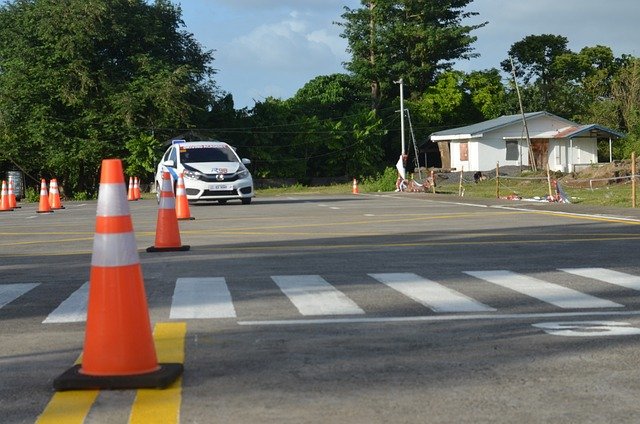 | | | |
| --- | --- | --- |
| Name of institute | Location | Contact number |
| Dubai Driving Centre | Jumeirah Road (Head office) | +971-4-345-5855 |
| Galadari Driving School | Al Qusais(And multiple branches) | +971-4-267-6166 |
| Belhasa Driving Centre | Al Wasl (And multiple branches) | +971-4-345-5855 |
| Al Ahli Driving School | Al Nahda(And multiple branches) | 800-252454 |
| Emirates Driving Institute | Al Quoz(And multiple branches) | +971-4-340-0449 |
Renewal of UAE Driving Licence
Citizens of the UAE and the GCCC can renew their driver's licences for 10 years, while residents can only do so for 5 years. In most emirates, you may renew your driver's licence online. All traffic penalties must be paid in order to renew your driver's licence. If a consumer waits more than a month to renew their driver's licence, they will be subject to a monthly fee of 10 AED.
What is the process for renewing a Dubai driving license?
Before requesting a licence renewal, pay off all of your traffic penalties. AED 10 per month in fines will be assessed if you don't renew your licence. This might result in a 500 AED fine altogether. However, you will need to retake all of the required examinations if your licence has expired for more than ten years. 
To create a request for a Dubai licence renewal: 
Observe the RTA website. 
Access "Services" 
From the drop-down box, select "Drive and Vehicle Owners Services." 
Apply by selecting "Driving Licence Request" 
Pay the service charge, which is AED 320 for applicants over 21 and AED 120 for applicants under 21. 
It's crucial to remember when your licence expires for everybody who successfully acquires one in Dubai. You will be exposed to severe fines and penalties if you drive with an invalid licence. As a result, it's critical to always check the expiration date so you may renew your driver's licence in Dubai on time. If you're new to Dubai then there are things you should know before moving To Dubai.
UAE Driving Licence Cost 
The overall cost to obtain a driving licence in the United Arab Emirates varies from Emirate to Emirate and ranges from AED 4500 to AED 7000. This includes the cost of driving to school as well as extra paperwork and eye exams.
FAQs
1. Will the price remain the same if I register online, or will I have to pay more?
An extra 25 DHS will be charged as an online fee. The minimum payment necessary to register with EDI if you register online is 600 Dhs. You can opt to pay online with a minimum amount or any other quantity.
2. Can a citizen of the USA drive in the UAE while on a month-long visit visa? 
To drive in the UAE, one requires a driving licence issued by the country. A person needs a resident visa in order to obtain a UAE driving licence. Please consult the RTA on 8009090, if this is the case.
3. How can I obtain a new learning permit after I lost mine?
Here are the necessary documents:
Registration Number
Passport Copy
1 Photograph
90 AED
4. What must I do to schedule my RTA Road Test for a Saturday?
Whether you want to schedule an RTA road test on a Saturday, you must call the RTA help desk at (800 90 90) or check the RTA smart screen at EDI to see if the day is available. 
If RTA indicates that the day is available, the student must go to EDI's test office to confirm availability and schedule the exam. For a Saturday slot, there will be an extra price of AED 100.