Dubai 2040 Urban Master Plan provides the perfect strategy for developers to create an ideal residence, providing key requirements of optimal living space and the best community experience.
Within the Real estate, developing sustainable buildings has more recently been at the forefront for companies. Buyers and end users are much more conscious of not only the environmental impact but also the long-term cost benefits that come from lower service charges or building operation costs.
It is no longer just a buzzword thrown around – it is expected to be a part of a company's overall ethos and one each business should be paying attention to and implementing.
Even when renting property, one does not just look for a place to live, but a potential home. And the pandemic showed us all just how important our home is. It is now a hybrid space, where we go to relax, spend time with family, and even work, go to school, or have meetings. Buyers and end-users are now looking at property with even more scrutiny.
Not only do they want greater flexibility within their homes but also more facilities within their residences and more connectivity within the community in which they choose to reside: Are there schools nearby, is there a hospital down the road, can they buy groceries, go to a salon or get on the local bus/train easily from their residence. These all have become real considerations now!
What is the 2040 Dubai Urban Master Plan?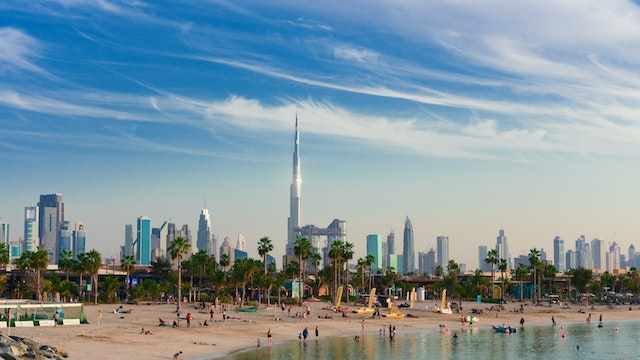 2040 Dubai Urban Master Plan is the 7th plan of its kind. It's a new initiative in the emirate of Dubai since 1960, which plans on utilizing the space within the city's boundary while also directing development towards established urban areas.
The city's future is being shaped by the Master Plan for 2040 Dubai, which aims to entice foreign investment into emerging industries, promote increased economic engagement, and offer sustainable buildings and adaptable transportation options to its citizens.
Dubai 2040 Urban Master Plan: Benefits of Urban Planning
Urban planning refers to the process of designing and constructing the physical infrastructure of urban areas, with the aim of guiding their growth and development in a manner that is sustainable and conducive to human habitation.
This practice offers several advantages, such as creating communities that are more livable and sustainable, enhancing transportation and accessibility, promoting economic growth, encouraging the conservation of natural and cultural resources, and improving public health and safety.
The Impact of Dubai 2040 Urban Master Plan on Real Estate Sector
Similar to various other industries, the Dubai 2040 urban master plan is poised to have a significant influence on the real estate market, as it seeks to provide a wide array of investment and lifestyle prospects. These possibilities will not only be accessible to local inhabitants but also to international investors.
This approach will promote foreign investment, stimulate the real estate sector, and boost the economy overall. Furthermore, the emirate's objective is to deliver top-quality infrastructure and amenities to its citizens.
Key highlights of the Dubai 2040 Urban Master Plan
Plan to transform the Dubai Silicon Oasis
The Dubai 2040 urban master plan for Dubai Silicon Oasis aims to establish a comprehensive and exceptional environment with a focus on sustainability. It employs an innovative approach that encourages all members of diverse communities to unleash their creativity and innovation, resulting in a better living space.
Expo 2020 to District 2020
As part of the Dubai 2040 urban master plan, the Expo 2020 site will transform into District 2020, an integrated and sustainable mixed-use community. This transition is anticipated to position District 2020 as one of the most desirable locations for purchasing property in Dubai in the coming years.
Tourism & Hospitality Sector
According to the plan, the tourism and hospitality industry will experience a 134% expansion in space. Additionally, a significant effort will be made to designate 60% of Dubai's land area as nature reserves, which is a noteworthy development.
Hatta Tourist Development Plan
The Hatta region is set to undergo major upgrades to bolster its appeal as a local and international hub for tourism, business, and investment, as part of the larger Dubai 2040 Urban Master Plan.
Hatta Tourist Master Development Plan outlines various initiatives, such as the establishment of a tourist beach and a new lake, transportation systems for mountain slopes, the creation of the longest mountain walk, and the installation of 120 kilometres of bike paths.
The plan also includes the construction of an international hotel that will provide comprehensive services to the local community while promoting sports and tourism activities. Furthermore, a health resort situated on the mountainside will cater to tourists and offer facilities for sports and activities suited to the Hatta terrain.
Focus on Sustainability 
A significant aspect of the strategy involves a substantial expansion of green spaces throughout the Dubai emirate. The plan aims to transform 60% of the region into life reserves and natural rural areas.
Sheikh Mohammed announced plans to invest over Dh2.5 billion ($680 million) to establish 12 new beaches and 8 million square meters of green spaces.
Dubai intends to maintain its status as a worldwide centre for pioneering startups, global businesses, and crucial investments. The 2040 Dubai Urban Master Plan aims to enhance the provision of education and health facilities by allocating 25% more land area for this purpose.
The length of public beaches will also expand by up to 400% by 2040, with the objective of enhancing the overall well-being of residents and visitors with the help of more green locations and sustainable buildings.
Impact on Property Developers
The Dubai 2040 Urban Master Plan offers a great blueprint for developers to construct the perfect living environment that meets important standards for ideal residential spaces and communities. Emphasizing factors such as connectivity, green areas, and overall enhancement of living standards, the plan's vision has become essential for property developers.
About Zazen Gardens
Zazen Gardens, the latest project by ZāZEN Properties, is focused on creating contemporary community residences that balance community and sustainability.
Zazen Properties has developed a low-rise residential venture called Zazen Gardens, featuring luxurious one, two, and three-bedroom apartments. It enables a lifestyle that prioritizes environmental sustainability and lowers the carbon footprint.
Investing in the sustainable Zazen Gardens apartments is a great choice as it not only safeguards your current and future well-being but also supports the development of numerous verdant and sustainable areas.
The majority of amenities offered by Zazen Gardens are of contemporary and high-quality standards. The complex provides a convenient and comfortable way of living, with a combination of landscaped gardens, parks, seating areas, and dining outlets.
Features of Zazen Gardens
Electric Vehicle(EV) charging stations
Recycling stations
Solar Panels for generating electricity
Certified leed gold building complex
Located in one of the best communities in Dubai– Al Furjan