Dubai has evolved from a well-loved holiday location to the best place for people to reside in. It offers everything from 7-star luxury to affordable areas with the best communities in Dubai for individuals and families alike. That's why Dubai has become a top destination amongst investors from around the globe as a hub for making profits. 
List of the 20 Best Communities in Dubai
All the best communities in Dubai have their speciality, and the area where you choose to live can have a big impact on your day-to-day life. For instance, while some areas offer green spaces and a calm environment, few offer easy access to amenities like schools and hospitals. You may have to choose one or the other! Read further to get to know the best features of the top 20 best communities in Dubai to live in.
All these best communities in Dubai city are greatly appreciated by their residents and offer safety, and connectivity, with easy access to nearby locations and are developed.
Jumeirah Village Triangle (JVT)
Located in the heart of New Dubai, the best apartments in Jumeirah Village Triangle have many green spaces and common areas for families and neighbours to spend time together. It is located between 2 main highways for ease of access and is already developed with an active community management team. 

Best features:
The gated area offers a safe and peaceful environment
Home to over 5,000 residential properties with many attractive amenities
Predominantly famous for villas and townhouses, but offers apartments as well
One of the best freehold properties in Dubai is located here, with options for renters too
Has reputed schools, supermarkets, a community mall, gyms and salons with easy access
A pet-friendly neighbourhood
A variety of outdoor recreational activities
Over 9 community parks, 5 tennis courts, and a few basketball courts
Next to popular areas; Springs Souk, JVC, Jumeirah Park and Mediclinic Parkview Hospital
Dubai Marina
Dubai Marina boasts luxury skyscrapers and a range of dining and entertainment options. It is a meticulously-planned community that is known as the tallest block in the world. The vibrant community lifestyle helps individuals adjust and easily get lost in the luxury of the community.

Best features:
Hosts over 200 luxurious residential towers
Popular as an apartment community for families
Great waterfront views from almost all buildings
Residential apartments offer luxurious and state-of-the-art facilities
The community hosts many events throughout the year and is popular with tourists
Includes a shopping mall, promenade, and many popular restaurants
Jumeirah Lake Towers (JLT)
This super luxurious apartment community is popular with families for its reasonable price. In addition, it is extremely well connected to the metro and is ideal for exploring the city.

Best features:
Offers high-rise skyscrapers, well divided into 26 clusters with three buildings in each
Hosts a mix of offices, residences, retail, food and beverage outlets, and hospitality venues for an easy lifestyle
The community owns a private pet-friendly park called JLT Park
Best community life for couples and families
Palm Jumeirah
Palm Jumeirah is home to some of the most family-friendly apartments. It offers a perfect combination of luxury and convenience.
Best features:
The largest man-made island in the world
The community is built as a palm tree on the coast of the Arabian Sea
Hosts a wide collection of beachfront apartments, villas, and the iconic hotel resort (Atlantis The Palm)
A monorail connects different areas of the Palm
Jumeirah Islands
Jumeirah Islands is a freehold area and a luxurious housing project. The community has people from different backgrounds and ethnicities living together peacefully.
Best features:
Offers a picturesque archipelago with artificial saltwater lakes
Hosts a clubhouse and recreational centre at The Pavilion
Offers residential clusters of large villas as well as townhouses with variations of construction and architectural styles
Offers restaurants, a gym, salons, a supermarket, and leisure facilities
Has amazing neighbours like JLT, Emirates Living communities, and Dubai Marina
Mirdif
Mirdif is popular for the elegant European-style villas in the area. It offers an upscale lifestyle while keeping you connected with the other residential complexes around.
Best features:
It is situated close to the Dubai International Airport
Known for its eclectic villa architecture
Hosts a massive Mushrif Park
Mirdif City Centre is popular as the best family-friendly attraction in Dubai
Downtown Dubai
Downtown Dubai is the centre of Dubai because of its constantly evolving nature. It attracts tourists and is known for its luxurious lifestyle. Hence, it is a preferred community for non-drivers and frequent travellers.
Best features:
Hosts the tallest building in the world, Burj Khalifa
Organizes several parades and festivities throughout the year for a complete community experience
Famous as a tourist hotspot in Dubai
Properties have impressive luxurious amenities for couples and families
Dubai Media City
Dubai Media City (DMC) is a regional hub for media companies. Freelancers, SMEs, start-ups, and large enterprises coexist here in harmony. It is a heavily commercialized area, but this also means that the residents have several job opportunities within their reach.
Best features:
Mainly features commercial spaces for individuals 
Business-friendly area that supports the media industry
Completely operated under Dubai Technology & Media Free Zone Authority
A popular hub for the media industry in the Gulf Cooperation Council and the Middle East
Arabian Ranches
Villas in Arabian Ranches are family-friendly, large and spacious homes. It is a quiet suburb and can act as an idyllic escape from city life. One of the finest & best communities in Dubai, Arabian Ranches is gated by Emaar.

Best features:
A golf community in Dubai with villas and townhouses
An amazing family-centric and pet-friendly neighbourhood
Home to the Dubai Polo and Equestrian Club
Convenient transport infrastructure that links it to the rest of Dubai easily
Hosts educational institutions like the Ranches Primary School, and Jumeirah English Speaking School within the gated community
Dubai Sports City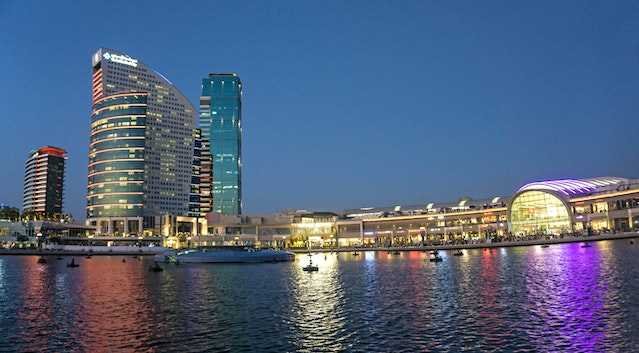 Dubai Sports City is one of the best communities in Dubai for investors and end users due to the different residential options.
Best features:
Features the headquarters of the International Cricket Council (ICC)
Mix of Villas, Townhouses and Apartments
Perfect for both families and young individuals
Convenient location that offers easy access to Al Khail Road and Hessa Street
Deira
Deira, one of the oldest commercial districts, is a popular place to live and work, especially for lower-cost housing. This community is popular among families, bachelors, ex-pats as well as locals.
Best features:
Offers Budget-friendly accommodation
Fantastic location on the banks of the Dubai Creek, close to Bur Dubai
Home to the oldest mall in the city: Al Ghurair Centre
Home to the Heritage House and Al Ahmadiya School
Known as a central trading hub, particularly for the glittering Gold Souk.
An active trading hub for shipping spices, textiles, and more to Asian and African countries
Emirates Hills
The Beverly Hills of Dubai, Emirates Hills is the most upscale locality in the country.
Best features:
A safe gated villa community that is a part of the Emirates Living project
Hosts the homes of many world-famous personalities
Neighbours to popular communities like The Springs, Meadows, and The Lakes
Large plots where you can build your villa
Popular among residents as a pet-friendly community
Features many facilities like pools, parking spaces, and BBQ areas
Golf enthusiasts can tee off in the Montgomerie Golf Club Dubai
Bur Dubai
Bur Dubai, one of the oldest neighbourhoods of Dubai, allows you to relive Dubai's past and trace its origins.
Best features:
Home to Al Fahidi Historical District, commonly known as Bastakiya
Hosts the well-known tourist attraction of Dubai Frame
Fringed by the iconic Dubai Creek
Hub of residential and economic activity
Hosts many clothing and jewellery shops and easy access to exotic fabrics, pashminas, and colourful embroidered cushions
Easy transportation through many metro stations on both the Red and Green Lines
Al Barari
Al Barari acts as a perfect green sanctuary away from the centre of Dubai. It helps you relax and unwind while you absorb the greenery around you.
Best features:
An iconic family-centric area with a green environment of over 500 plant species
Features villas as well as large-scale apartments
Gated community with luxurious recreational and health facilities
Easy access to all the major landmarks and tourist attractions
Motor City
The Motor City is located near Arabian Ranches and is a quiet, self-contained area with a vibrant town centre.
Best features:
A self-contained community with the vibrant town centre
Based on a motorsport theme for sports enthusiasts
Airy and large apartments allow plenty of sunlight
Hosts its motorsport circuit, Dubai Autodrome
Offers a vast collection of villas, apartments as well as commercial spaces
Perfect for both single professionals to families
Dubai Land Housing 
Dubailand is a popular choice for families due to its breathtaking parks and convenient location near schools and entertainment destinations, making it an ideal place to live in central Dubai that offers the lifestyle you desire.
Best Features:
Stunning greenery

Proximity to schools and entertainment venues

Modern and luxurious residential properties

Ample parking space

24/7 security

Easy access to transportation

All-inclusive neighbourhood for residents to live, work, and play.
Business Bay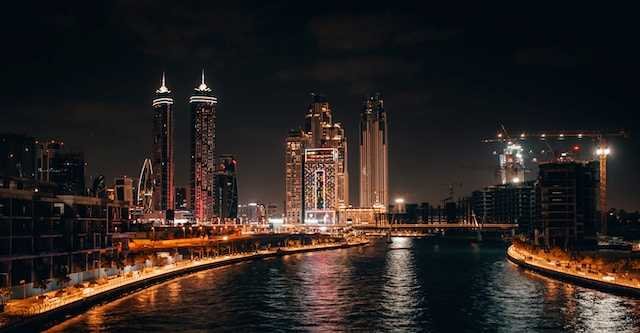 If you are a professional seeking a fast-paced lifestyle amidst modern skyscrapers and an energetic atmosphere, Business Bay is the place to be. This stylish and modern neighbourhood is conveniently situated adjacent to the highly sought-after Downtown Dubai and is just a short distance from Dubai International Financial Center.
Best Features:
Conveniently located near popular areas like Downtown Dubai and Dubai International Financial Center

Well-connected by public transportation and has ample parking space

The ultimate business hub in Dubai

Located on the banks of the Dubai Canal

Near Burj Khalifa, The Dubai Fountain and Dubai Aquarium

Landscaped parks, waterfront promenades, and fitness facilities

Many upcoming developments and projects
Al Barsha 
Al Barsha is a peaceful and secure locality that caters to a diverse range of residents. It is among the list of best communities in Dubai location for singles seeking affordable apartments that provide easy access to the Metro, as well as families who desire to escape the busy city life.
Best Features:
Apartments and villas available

Family-friendly neighbourhood

Strategically located near major roads

Best attractions-Miracle Garden, Butterfly Garden, and Barsha Pond Park 
DAMAC Hills Community
Damac Hills is a modern neighbourhood that is well-suited for individuals who enjoy spending time in nature. There are lots of outdoor activities for residents to participate in. The neighbourhood features the renowned Trump International Golf Club Dubai, as well as vast areas dedicated to offering various sports and relaxation facilities for residents to enjoy.
The neighbourhood offers a vast expanse of parkland and outdoor sports facilities for residents to enjoy. Living in Damac Hills also provides access to nearly four million square feet of lush greenery, providing a tranquil and refreshing atmosphere.
Best Features:
Renowned Trump International Golf Club Dubai for golf enthusiasts. 

Ample opportunities for outdoor recreation.

Luxurious properties in Dubai for residents, including villas, townhouses, and apartments.

A community centre, supermarkets, and restaurants.

24/7 security.
Jabel Ali 
Jebel Ali Village is well-known for offering an exceptional lifestyle that provides opportunities for exploration and discovery. The community is home to the largest man-made harbour, which can be easily discovered and explored.
Best Features:
Residential properties, including apartments, townhouses, and villas are available.

Ample opportunities for marine-related activities.

Range of amenities, including supermarkets, shopping malls, cafes, and restaurants. 

Jebel Ali Metro Station on the Red Line is the nearest metro station

Among the best communities in Dubai due to its diverse and dynamic neighbourhood

Has the largest marine port in the Middle East
Conclusion
After going through our compilation of the 20 best communities in Dubai, you may have noticed that each community possesses unique characteristics and limitations. Nonetheless, Jumeirah Village Triangle (JVT) stands out as the most desirable option due to its convenient location, a strong sense of community, and impressive range of amenities.
Moreover, there are property developers like ZāZEN Properties that offer unique apartments with world-class amenities and sustainable buildings that help you live a better life. Their apartments in ZāZEN One, in Jumeirah Village Triangle,  provide you with space, greenery, high-quality finishing and even solar power, making it one of the best communities in Dubai in terms of development.