The UAE is home to a significant population of Indian expatriates who are required to renew their passports in order to maintain their UAE residency permit validity. Fortunately, the UAE government has developed a simplified procedure for Indian passport renewal in Dubai. This piece will furnish details on the Indian passport renewal in Dubai.
We'll also discuss the required documents, and costs involved in Indian passport renewal in Dubai.
To acquire an Indian passport in Dubai, one must submit an application at a BLS International Centre, which is an authorized agency. For further information about this accredited entity, please continue reading.
How does BLS International Help in Indian Passport Renewal in Dubai?
This authorized agency is tasked with the responsibility of overseeing and executing visa and passport-related processes and transactions for Indian citizens. They have branches situated in major cities throughout the Emirates in UAE.
Furthermore, you can visit the BLS International online portal to access pertinent details and even apply for Indian passport renewal in Dubai online.
How to renew an Indian passport in Dubai?
If you're looking for a simple procedure for Indian passport renewal in Dubai, you must process your application through BLS International, a passport services agency with multiple offices throughout the UAE. However, it is the Consulate General of India that retains exclusive jurisdiction to accept or refuse your application.
Required Documents
Prior to visiting a BLS International Service Centre, it is imperative that you have the following documents in your possession:
Completed Application Form

Completed Personal Particulars Form (in triplicate)

Six (6) clear photos (measuring 51 mm by 51 mm, with a white background and dark attire)

Current Passport with a clear photocopy of its first, and last, address pages, valid UAE visa page, and any other endorsement pages

A photocopy of a photo ID card with expiration details (such as a Driver's License, Emirates ID Card, Labor Card, or Health Card).
There are certain situations where you may need to provide additional documents, which include:
An offer letter that is attested by the Chamber of Commerce where the company is registered OR a valid Employment Paper Visa in original and photocopy, a Photo Testified Letter from the company, and a valid Trade license copy (for new employees).

A Sworn Affidavit that is attested by the Consular Office (for changes in appearance, such as wearing a turban to not wearing a turban).

A Request letter that contains an explanation, Prior Approval from the Consulate General of India, and an Instruction Note from BLS International (for passports that have expired for more than 1 year).

A Sponsorship Photo Testified Letter from the company and a valid Trade License copy (for expired passports of employees).

A Sponsor's Photo Testified Letter and passport copy with a valid UAE Visa Page (for expired pages of dependents).

A NOC and Sponsor's Passport copy (for female applicants with "housewife" status whose sponsor's name does not match the husband's name on the passport).
After you have collected all the necessary documents, it is essential to personally submit your application to a BLS International Service Center. It is imperative that you sign the documents in front of a submission officer.
When will you receive the Indian Passport in Dubai?

Delivery service is available to help applicants receive their renewed passports without the need to visit BLS centres again. In the event that you are unable to receive the passport delivery, it will be returned to either the Al Khaleej BLS Center in Dubai in Abu Dhabi. You can retrieve your passport from these centres between 5:30 pm and 6:30 pm, from Saturday to Thursday.
Indian Passport Validity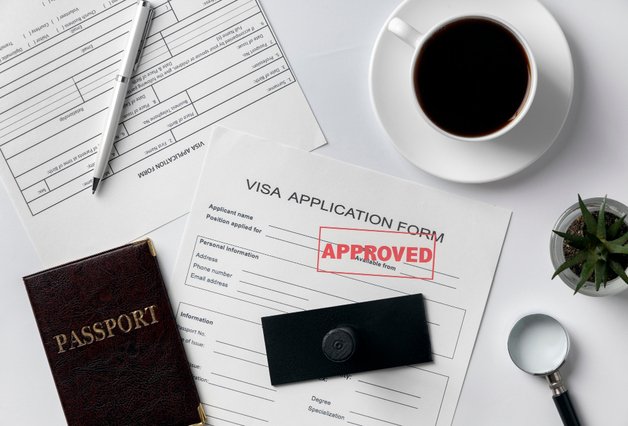 Typically, an Indian passport has a validity period of 10 years from the date of issue, but in some cases, passports with shorter validity periods may be issued by passport authorities. However, such passports can be reissued for a maximum period of 10 years. 
The validity period of Tatkal passports is more flexible, as authorities at the Embassy of India in Abu Dhabi and the Consulate General of India in Dubai issue passports with varying validity periods based on the circumstances. 
Children's passports usually have a validity period of 5 years from the date of issue. It is illegal to possess more than one valid passport at a time, and Indian passport renewal in Dubai is applicable for one year before the expiry date. 
If a child is going to turn 18 before the 5-year validity period ends, their passport will have a shorter validity period, expiring when they reach 18, and they will need to apply for Indian passport renewal in Dubai, following the same procedure as explained above.
Indian Passport Renewal Fee in Dubai
Below are the prices for renewing the Indian passport renewal in Dubai according to categories:
| Category | Cost |
| --- | --- |
| 60-page passport booklet | 380 AED |
| 36-page passport booklet | 285 AED |
| Minor under 18 years old | 316 AED |
| Tatkal online service (60-page passport booklet) | 855 AED |
| Tatkal online service (36-page passport booklet) | 950 AED |
| Minor under 18 years old Tatklal service | 886 AED |
BLS Centres in Dubai:
Location and timings of BLS centres for passport renewal in Dubai:
Name
Timings
BLS Al Khaleej Center

Open 9 am to 6 pm.

Last Token: 4:30 pm (Lunch break: 1 pm to 2 pm)

BLS Premium Lounge

Open 9 am to 6 pm.

(Lunch break: 1 pm to 2 pm)

BLS Deira

Open 8 am to 5 pm.

Last Token: 3:30 pm (Lunch break: 12:30 pm to 1 pm)

Abu Dhabi Main Centre

Open 9 am to 6 pm.

Last Token: 4:30 pm (Lunch break: 1 pm to 2 pm)

Abu Dhabi Premium Lounge

Open 9 am to 6 pm.

(Lunch break: 1 pm to 2 pm)

Sharjah

Open 8 am to 5 pm.

Last Token: 3:30 pm (Lunch break: 12 pm to 1 pm)

BLS Sharjah Indian Association

Open 8 am to 5 pm.

Last Token: 4 pm (Lunch break: 12 pm to 1 pm)

BLS Fujairah

Open 8 am to 5 pm.

Last Token: 4 pm (Lunch break: 12 pm to 1 pm)

Ras Al Khaimah

Open 8 am to 5 pm.

Last Token: 4 pm (Lunch break: 12 pm to 1 pm)

Ajman

Open 8 am to 5 pm.

Last Token: 4 pm (Lunch break: 12 pm to 1 pm)

Umm Al Quwain

Open 8 am to 5 pm.

Last Token: 4 pm (Lunch break: 12 pm to 1 pm)

Al Ain

Open 8 am to 5 pm.

Last Token: 3:30 pm