Does your job require you to travel to the beautiful Arabian metropolis of Dubai?
If so, we understand that you have many preparations to make before you can depart for the Emirate. One of the most challenging and lengthy tasks of travelling abroad is the process of obtaining a Dubai business visa.
In contrast to several other nations, getting a Dubai Business Visa is a straightforward process. You have the option of applying for the visa by visiting a Dubai Business Visa Processing Center in your area or applying online or through a tour operator. Here are a few key types of visas you should know about before applying for a Dubai Business Visa:
Dubai Business Visa Price
| Types of Dubai Visa | Fees | Description |
| --- | --- | --- |
| 48-hour visa | Rs. 2,200 | This visa is designed for visitors who intend to stay in the UAE for a maximum of two days, as it is only valid for 48 hours. It will be valid for 30 days from the date it is issued. |
| 96-hour visa | Rs.3,899 | Similar to the 48-hour visa, this visa is most suitable for travellers who plan to stay in the country for no longer than 96 hours or 4 days. Visitors who are stopping over on their way to another destination or coming to the UAE for business purposes typically apply for this visa. The visa remains valid for 30 days from its issuance date. |
| 14 days Single every short-term visa | Rs.10,650 | The 14-day single entry short-term visa is valid for two weeks and cannot be extended. It is suitable for individuals who plan to visit the country for a brief period, whether for business or leisure with family and friends. |
| 30 days Single entry short-term visa | Rs. 6,750 | The 30-day single-entry visa for Dubai has a validity period of 58 days from the date of issuance. It allows an individual to stay in the country for 30 days with the help of a visa. It is important to note that the visa cannot be extended. |
| 90 days visit visa | Rs. 15,450 | Compared to other types of visas, this visa allows individuals to stay in the country for a longer duration. It has a validity period of 90 days and is typically sought after by those visiting family or friends, attending business training, or going on long vacations. |
| Multi-entry long-term visa | Rs. 40,320 | The extended multiple-entry Dubai visa has a validity period of 90 days and can be used to extend one's stay in the UAE. Individuals holding this visa are allowed to enter the country multiple times and stay for up to 90 days after their initial arrival. |
| Multi-entry short-term visa | Rs. 17,110 | The short-term multi-entry Dubai visa is not extendable. It allows entry into the country multiple times during the validity period of the visa. It is valid for 58 days from the date of issue and allows for a stay of up to 30 days in the UAE from the first entry using the visa. It is important to note that once the multi-entry visa has been utilised, it cannot be cancelled. |
How to get a business visa for Dubai from India?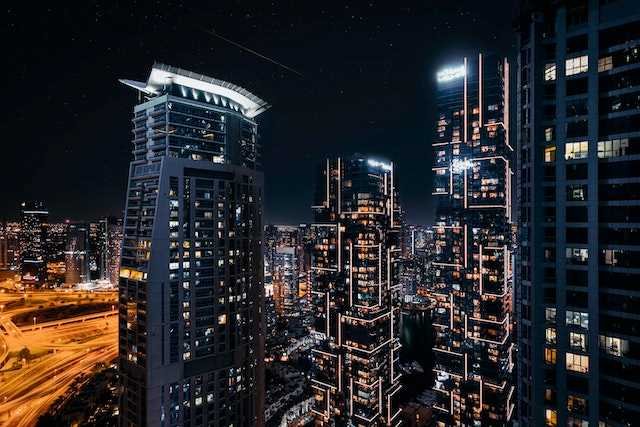 To apply for a Dubai business visa, applicants need to visit the nearest visa application centre and submit the necessary documents and visa application forms.
The centre is also where applicants must make the required visa payments. Once the required procedures are completed, the authorities will process the application.
After selecting the most suitable type of Dubai business visa, you can start the documentation and other procedures. You can book your tickets on www.emirates.com and apply for an online visa on their website.
Alternatively, you can visit the nearest Dubai Visa Processing Center (DVPC) to complete the process in person. Regardless of the application method, you will need to have the following documentation available for your visa application:
The following documents are required for your visa application:
first and last page of your passport.

Coloured photos that meet the specified size of 4.3 cm x 5.5 cm.

Financial documents such as income tax returns, Form 16, investment proofs, and so on, if applicable.

NOCs for students and women, and marriage certificates for couples travelling together.

A confirmed airline ticket for the passenger.
Along with the documents mentioned earlier, travellers must also complete a Dubai business visa application, either in electronic or physical form. The application must be completed with all the required supporting documents. Once the application form is completed, the required Dubai Visa fee must be paid to process the application.
Obtaining a Visitor/Business Visa for Dubai is a hassle-free process, as you might have noticed. Following a few uncomplicated steps, you can now travel to the stunning city of Dubai without difficulty! The city's beautiful beaches and sunny islands are eagerly waiting for you!
Dubai Visa Requirements
For Travel:
To apply for a Dubai business visa, certain documents are required including the original passport with a validity of at least six months, a coloured photocopy of the first and last two pages of the passport, an observation page, and any valid travel records. 
The Dubai business visa application form must be duly filled and signed, along with a photograph. An invitation letter may be required from the host company. 
A confirmed onward and return ticket from Emirates or Fly Dubai must be provided, along with applicable visa fees in cash, demand draft or credit card.
For female applicants and students over the age of 18 travelling alone, a No Objection Certificate (NOC) from parents/husband, a photo ID of the parents/husband, and a coloured copy of the host passport or residence visa are also necessary.
Invitation from immediate family member residing in UAE on family status:
Invitation letter, passport copy and valid UAE residence visa copy of the host in UAE.

Onward and return confirmed ticket of Emirates or Fly Dubai in original and photocopy.

Duly filled in a visa application form and signed it along with his/her photograph.

Original passport having a validity of a minimum of six months.

Coloured photocopy of the first and last two pages, observation page and valid travel records (if any).

Invitation letter (if any) from the host company in the country.

Applicable visa fees in cash/demand draft/credit cards.